CRAFTSMANSHIP
The journey of a Merchant 1948 shoe, from sketch to shelf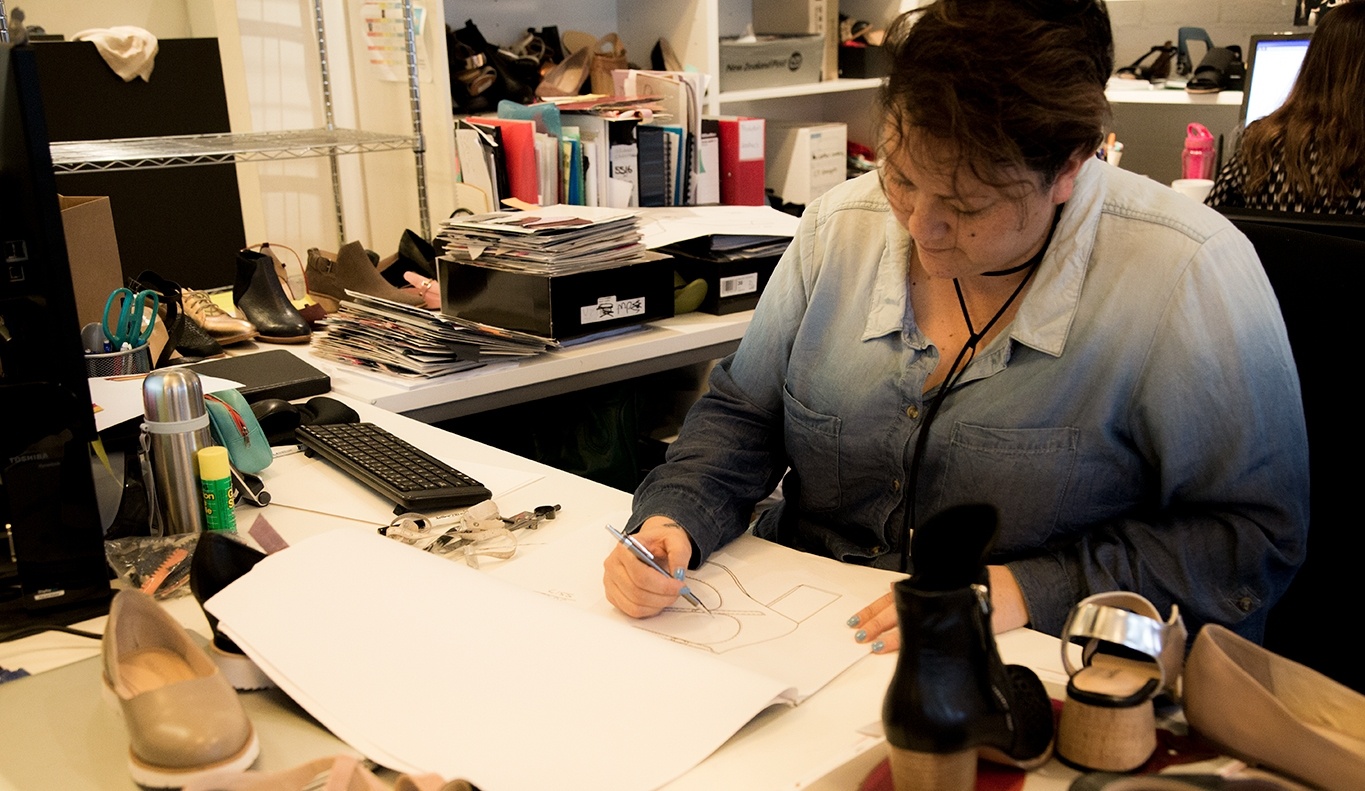 Behind every pair of Merchant 1948 shoes is a story that begins many months before they land in store. Here, one of the brand's passionate designers walks us through the design process, from start to finish.
Before we even begin
Merchant 1948 Senior Range Builder, Tania, has designed hundreds of pairs of shoes throughout her career and says bringing an initial idea or sketch to life is an intricate process.
By the time you have purchased a pair of Merchant 1948 shoes, they will have passed through the hands of many skilled and experienced craftsmen, artisans and manufacturers from all parts of the globe.
"Even before we start designing a new season, we have a lot of research and reflection to do," Tania says.
"Firstly we analyse the previous season. What was a success? What looks were popular? Did we have the right styles in the right places? Did we miss anything? What feedback do we have from both our staff and our customers?"
Once the design team have collated all this feedback, they start researching trends for the following season. They do this online and through the media, and by travelling to some of the world's fashion capitals, such as New York and Paris.
"This research, alongside the things that are creatively inspiring us, all influences the trends we pick each season. We use this to create mood boards that will direct the colours, silhouettes detailing and mood of the range," Tania says.
"From here, the biggest challenge is how to adapt these trends in a way that will appeal to our customer and then be executed through manufacturing, visual merchandising and store allocations."
Putting pen to paper
"Once all the research has been done (it really continues all season long) we sketch," Tania says. She notes that different designers each have slightly different methods.
"Some sketch for speed, some use (Adobe) Illustrator for detailing colour and texture and others are more hands-on and will cut into an existing shoe and add to it using tape and various pieces."
Next, a specification (or spec) is created for each style of shoe that has been designed by the team. A specification is a highly detailed document that tells and shows the factory how to create the shoe.
It contains information like which leather to use, linings, zips, the size of the rivets, and the size and colour of the laces.
"It's an incredibly detailed document and it is imperative that it's as accurate as possible, because the person who will be reading it is usually not an English speaker," she adds.
A design comes to life
Tania says one of the most crucial steps in the entire process is ensuring the fit of the shoe is just right.
"The design team travels to China to oversee the first prototypes," she says. "The big challenge (and huge responsibility) at this stage is getting the fit perfect. This step is incredibly important. If we are not pedantic about perfect lines at this stage then any errors will travel through to production and on into the finished shoes in store."
However, she says the hard work doesn't end once a prototype has been signed off by the team.
"Once we are all happy for a style to go into production, we pass on all the approvals to our technician in China. He's then responsible for setting up the factory to produce the style and start mass production."
Materials like leather, buckles and zips also have to be bought and the correct quantities of each material ordered.
"The last thing you want is to run out of anything and this is where our initial details on the spec sheets become so important," she says.
Tania says it can take more than 100 processes to make a shoe and that quality control is crucial.
"As designers, it's our responsibility to make sure our shoes are produced correctly and fit well. We are constantly pressing key staff members to be observant and proactive when they see problems come up that are fixable. Afterall, the next person who sees this shoe is our customer."
The job is never done
Once a shoe has landed in-store it doesn't end there. Rather it's time for the team to start analysing how it is selling and thinking about the next pair of beautiful, on-trend shoes they can create for their customers.
"We analyse sales constantly throughout a season to see what is successful and what isn't. It's a complex game of stats and spreadsheets," Tania says.
In fact, she says the design process is a continual one in order to stay one step ahead of the trends and have something totally new to excite the consumer at all times.
"Our team designs and trials new things all year round so that we can get beautiful footwear and constant newness in front of our customers."