CRAFTSMANSHIP
For the love of Malibu
As is the case with many a modern love story; it all started with an email.
Rose, a Merchant 1948 customer in Australia, contacted our Customer Experience team to share with them just how much she loves our Malibu heel – so much, in fact, that she owns it in a number of colours. Red, hot pink, teal, black, yellow and coral – Rose has them all! But there was just one colour she felt was missing from the Malibu colour palette. Orange. In her email, Rose asked if Merchant would consider making an orange Malibu in the future, as she felt this would perfectly complete the Malibu range.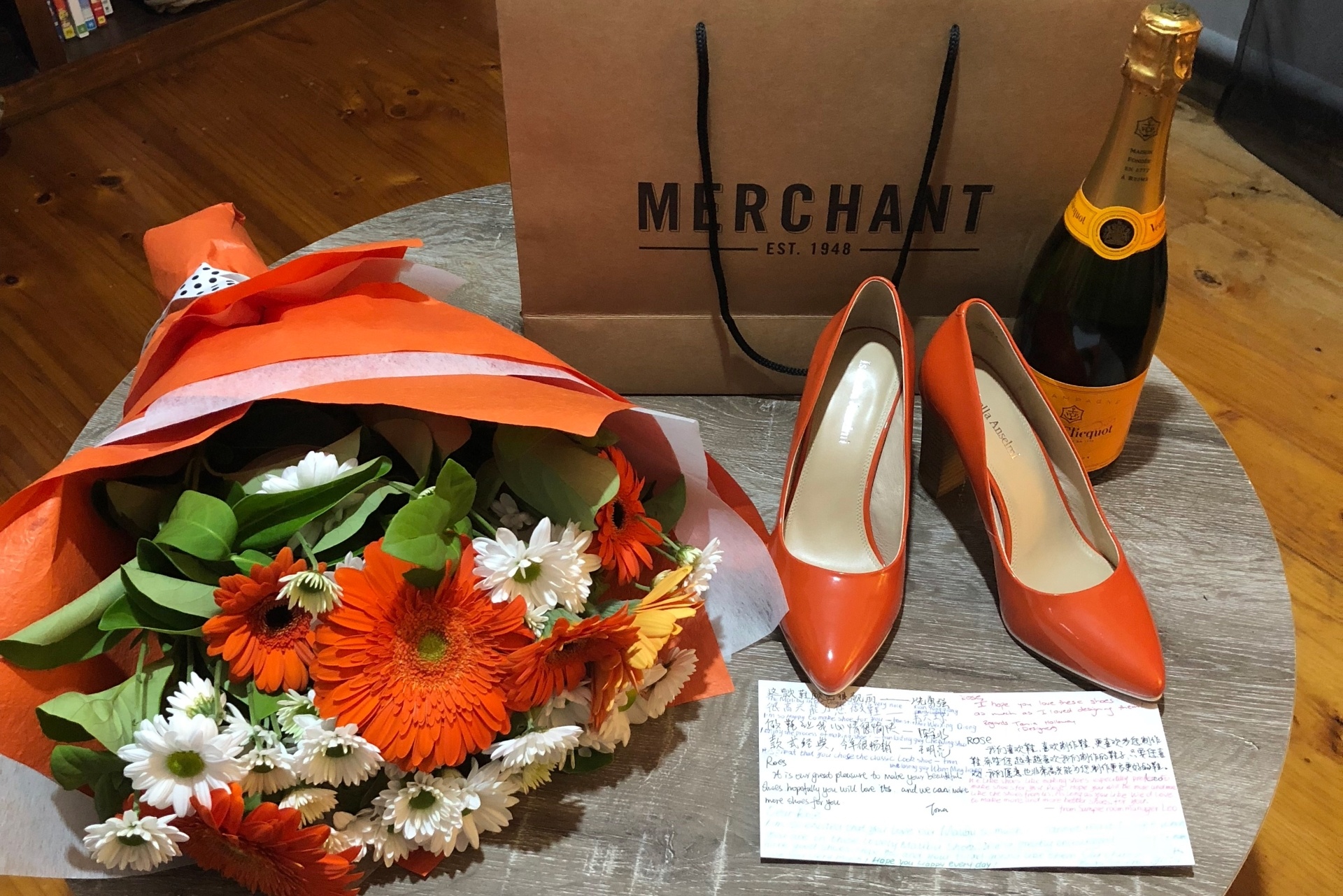 Rose's email quickly found its way to the Merchant buying team in Auckland, causing excitement all round. The question was soon put to the Merchant design team: "Do you think we could make this happen and create an orange Malibu?" The answer was a confident YES. Because Malibu is created in the Merchant factory in China, creating the shoe in a new colour was entirely possible. Some sleuthing turned up Rose's shoe size and from there the wheels were set in motion.
The first step was to have a sample of the orange Malibu made in our factory. This was turned around within a week. The sample shoe was sent all the way to Auckland, where Merchant Manufacturing Manager Tania signed off the bright orange colour – it was perfect. From there, it was full steam ahead for our factory. Tania worked closely with Yilia Liu, our developer at the factory, ensuring that great care was taken in creating this special shoe. Yilia Liu also documented the process – from the creation to the final details and finishing of the orange Malibu.
Perfect timing meant Tania was up at the factory just as the finishing touches were being put on the punchy orange pump. It quickly transpired that the making of this shoe had become so much more than that. Everyone in the factory knew about this special pair of shoes which they'd aptly named, Rose's Shoes. The entire team had been fastidious about the making of the orange heels, with almost everyone in the factory having worked on the pair. When it came to quality control not only did Yilia Liu, the developer, check over the orange Malibu, but Tania did too! Everyone had put their time, energy, love and finesse into creating Rose's Shoes. Dozens of photos and reels of video had been taken, documenting each and every step in the shoemaking process and a card had been signed by every single team member in the factory, addressed personally to Rose.
The final step was to get the shoes from the Merchant factory in China to Rose's wardrobe in Australia.
The statement shoes were carefully hand-packed by Tania, who then popped them into her carry-on luggage and travelled them back across the 6,752 miles to New Zealand. But the journey wasn't over yet. The next task was to get Rose's Shoes to Rose! This mission was handed over to the Merchant retail team who delivered the shoes personally to Rose, at her home in Melbourne. Rose was thrilled. Her Malibu collection was now complete with the perfect orange version of the shoe!
From a simple email request sent by a shoe-loving customer, to an Auckland-based design team, a factory in China and finally, a journey across oceans to its new home, the story of the orange Malibu is heartwarming and happy and we're so glad we could make Rose's shoe dreams come true!
But the orange Malibu love story is far from over. Rose's request to create an orange Malibu was so inspiring, we didn't want other shoe-lovers to miss out on such a fantastic shoe. So, we're making more – for everyone to enjoy!
"As designers, we treat each pair of shoes a little bit like they are our baby," Tania explains. "It's so great to see someone who loves a pair of shoes you've designed, as much as you do."
We wish Rose a lifetime of happiness with the first-ever pair of orange Malibu's – and we can't wait to share them with you soon!
Products feature in this article...